How Dogs, Bars And Coffee Shops Convinced Amazon To Come To Arlington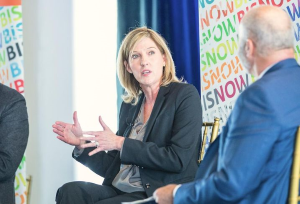 Amazon was focused on talent pipelines and incentives when it was looking for a place to put its second headquarters, but when its executives visited Arlington last year, a handful of community interactions helped convince them that it was the place to come.
Amazon global economic development head Holly Sullivan, speaking Thursday morning at Bisnow's Amazon HQ2-Apalooza event, said the company dispatched an employee to take the temperature of the Arlington community when it was deciding whether it should bring its 25,000-plus jobs to the area.
The Amazon employee sat in local bars and coffee shops and asked patrons what they thought about the idea of Amazon considering Arlington for its second headquarters and how it could impact the community.
"Overwhelmingly, before we announced, we felt welcomed here," Sullivan said. "It's going to be a good opportunity for the company to diversify our headquarters presence." …
RSK: Amazon has gone to the Dogs….and that's alright by me! Let's see, Dogs. bars & coffee shops…what could be better?
Ken Notes: One take away, as an ED professional I always found it was important for a potential client to have a great first impression and I orchestrated created one for the client. When EPIC first came to Verona the council and staff all agreed to not talk details but rather listen and ask how can we help….
---
RESCHEDULED: RASCW Events and updates

2019 RASCW
Commercial Real Estate Update Seminar
Wednesday, May 29, 2019
Registration 1:00 pm • Program 1:30 pm – 4:00 pm
Corporate Conference Center • TDS Building
525 Junction Road, Madison
Presenters
Commercial Real Estate: What is Next?
Mark J. Eppli, Director of the James A. Graaskamp Center for Real Estate
Tax Cuts & Jobs Act of 2017: What Does it Mean in 2019?
Jeff D. Olson, CPA, MBA – Berndt CPA
Madison Development
Matt Wachter, Manager of Real Estate Services and
Dan Kennelly, Manager of Office of Business Resources,
Economic Development Division, City of Madison
Corey Lamont and Tom Larson
legal updates and legislation.
Social Networking 4:00 pm – 5:30 pm
Eno Vino Wine Bar & Bistro
…more
---
Real estate giants try to be more like WeWork, before it overtakes them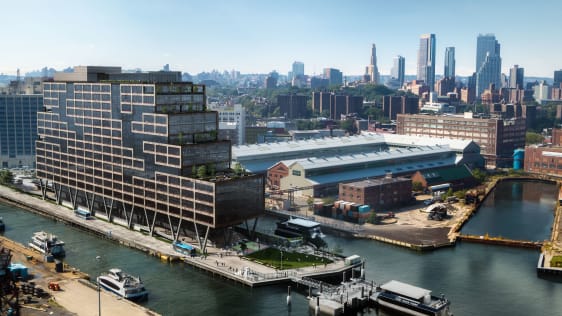 A sprawling, state of the art office complex at the Brooklyn Navy Yard is the latest example of legacy real estate companies tangling with tech.

In the fight for the future of the real estate industry, legacy firms are trying to figure out how to contend with WeWork. The beer-loving co-working startup that landlords once welcomed has grown into
something much more complicated and powerful
, in part through technology. The company has developed both consumer facing tech, like an app for booking conference rooms and checking out events in its co-working spaces, as well as operational analytics that makes its offices and overall business more efficient…
RSK: It is and is going to be a part of our office culture.
---
The Gialamas Company, Inc.
The Gialamas Company's premier development. The park has over 57 buildings containing 200+ companies, occupying over 3.0 million square feet.
<
---
What These 3 Women In Commercial Real Estate Learned From Day One
According to a 2015 study published by CREW (Commercial Real Estate Women), an industry networking organization, women are advancing in commercial real estate, particularly in the C-suite, and the shrinking salary gap. Yet with this advancement there are still areas of improvement when it comes to the income gap, and getting more women interested in CRE brokerage, leasing and sales positions.
This type of progress comes with lessons learned early on… …more
RSK: A few good lessons to be learned here…and not just for women.
---
Flad Development & Investment Corp.
Since 1975, Flad Development & Investment Corp. has emerged as a leader in the development of quality commercial real estate projects in Madison and Milwaukee.
---
Do You Fear The Boomers In #CRE? No? Maybe You Should!
Ah, the ever-present Boomer Generation. As we sit here in 2019 they were the generation born between 1944 and 1964. They're currently between 54-74 years old (76 million in the U.S.) Source- KASASA
And as I have stated in a previous post "In 2011, that first round of Baby Boomers—those Americans born between 1946 and 1964—turns 65. From now until 2030, 10,000 Baby Boomers each day will hit retirement age." Source- Senior Living. So, that means that we still have over 10 years to go, we are just about half way. That means most of them are 60 and under."
And you are like "so what, 60 is old dude. those people are done." I had a friend of mine from California recently mention that at 45 most people are peaking and ending their "big run." By 55 they are done or are "hanging on way past their prime." Remember that's California where, and I reference another post of mine where I stated that LA is "Where Narcissism Is Not Only Encouraged It's Rewarded."…
RSK: Spot on Duke!
---
March 2019 – Cirex Digital Version
---
Multifamily Developers Are Planning For Long-Term Partnerships With Short-Term Rental Operators
Turning apartments into furnished short-term stay units has long been an eleventh-hour move — a developer's "Hail Mary" when units are not leasing at the anticipated rate. But the presence of nationwide short-term operators means leasing out part of a building as furnished rental units is looking less like a last resort and more like a common sense financial decision.
As the practice becomes more commonplace, multifamily developers are working with short-term rental operators earlier in the development process. Planning for a partnership with a rental operator allows developers to make design choices and financial moves that can bring in millions of dollars over a building's lifetime…
RSK: Not sure if this model would work in our market. What are your thoughts on this?
---
Newmark Grubb Gialamas
Newmark Grubb Gialamas specializes in investment sales, office, retail, industrial, land, multi-family properties and 1031 exchanges. Our knowledgeable, local brokers are subject experts in their field.
---
CoStar Shares Soar 12% After Earnings Report Details Company's Growth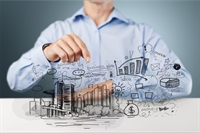 CoStar Group's market value rose to over $16.5B Wednesday after the commercial real estate data giant reported that its 2018 earnings surpassed expectations.
The D.C.-based company brought in $1.2B in revenue last year, a 24% increase over 2017 and the first year CoStar has surpassed the billion-dollar mark. Its earnings per share of $2.81 beat estimates by 28 cents. CoStar projected its revenue would grow at least 15% this year to around $1.4B. It also set a goal of expanding its annual revenue to $3B by 2023…
RSK: These guys are aggressive. Not sure how many people use it in our area. People put property on Loop Net but I do not think they realize who can actually view their properties. I lean towards other options…
---
IA Management
IA Management is a full service property management company located in Madison, Wisconsin. Our objective is to be a profitable leader in both commercial and residential real estate.
---
People, Get Ready for Extended Slowdown in CRE Demand
An inverted yield curve and forecasts of a dropoff in job growth are among the signals that the industry's long, great ride may soon be ending, says economist Hugh Kelly.
A who's who of the commercial property cognoscenti gather each December in New York for ULI's McCoy Symposium. Late cycle risks were a prominent topic of discussion. Risk pricing, for instance, was seen as ripe for adjustment with cap rates rated as "too low" given prospects for income growth and capital appreciation. One participant suggested that a downward price correction of about 10 percent could actually be healthy for the industry. Lenders have generally been disciplined, but those financing projects at the riskier end of the spectrum may face trouble as the cycle turns. These include regional banks financing construction projects and mezzanine lenders who have not delved deeply enough into property inspections. Then there are niche investment areas, including self-storage, senior housing and student housing, where there has been a surge of development that may be outstripping underlying demand…
RSK: Not so fast my friend. The driving demand in CRE has been distribution/warehousing and that will still be a hot commodity for a few more years. Office Space? Maybe not as Co-Working takes a big leap. Retail…see that as steady to a bit lower. Multi-Family…yes we are reaching saturation in some markets and out pricing the customer. Just my viewpoint and gut feeling.
---
High Point Office Park
Affordable. Versatile. Excellent visibility. A unique gem tucked alongside Madison's West Beltline Highway 12/14…
A nuisance or a great way to earn income?
The Times story revealing the inner-workings of a group's multimillion-dollar Airbnb scheme — unlawfully using the site to convert scores of Manhattan apartments into makeshift hotels — reverberated with readers around the world.
We heard from hosts who share their homes to make ends meet, families who live next door to apartments rented out on Airbnb and travelers who use Airbnb — as well as those who prefer not to.
The company's rapid growth has transformed how millions of people travel. But it's clear, from hundreds of reader comments, that there's a heated debate over the impact of the so-called sharing economy on the character of neighborhoods, housing stock and quality of life.
Below, a sampling of readers' comments, shortened and edited for clarity…
RSK: I find this interesting especially since our neighbor rents his place out periodically in the fall. What I see is more elderly people in residential areas are not keen on their neighbors doing this, nor are people in exclusive apartments and condo projects.
---
2018 Event Calendar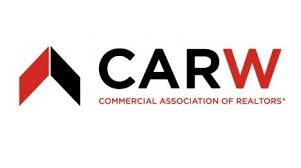 New Commerce. New Footprints. The Evolution of Industrial Real Estate
March 7 @ 3:30 pm

–

7:00 pm
Networking and registration – 3:30 – 4:00
Panel Discussion – 4:00 – 5:00
Happy Hour and Networking – 5:00 – 6:00 Sponsored by: STAG Industrial & Zilber Property Group
Bucks Game (optional) 7:00
Logistics and eCommerce are driving forces in this record-breaking industry. Hear from national and local experts on how the future of warehousing and distribution decision are being shaped.
Panelists:
Marcia Kester-Sperber, Uline
Don Schoenheider, Hillwood Investment Properties
Ben Conwell, Cushman & Wakefield
Scott Carpenter, CH Coakley
RSK: A list of CARW Events and CE.
---
Reinhart Boerner Van Deuren s.c.
With the largest Real Estate Practice of any law firm in Wisconsin, Reinhart offers clients custom-tailored real estate insight.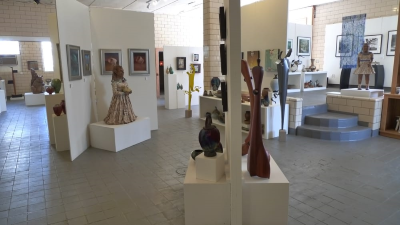 Ideal
retail space will be available in June 2019, in the charming and popular destination village of Paoli, WI, just minutes from Madison retail art gallery has operated very successfully in the space for 31 years.
The space is located in the historic creamery overlooking the scenic Sugar River. It features high ceilings, large glass block windows, ceramic block walls, wheelchair accessibility and off-street parking.
Other businesses in town include an upscale restaurant, several other eating establishments, art and craft galleries, a beer garden, an artisan cheese store and other specialty shops. A well-established merchant organization plans several town-wide events each year, attracting sizable crowds and offering live music, refreshments, art openings and other special activities. Paoli is also a popular area for cyclers, fishing and boating.
The total rental space available is 5170 square feet, including retail/commercial space, bathroom, and storage. There is an option to split the space into two sections (820 square feet and 4350 square feet). Rental rates from $5.38 to $6.22 per square foot. Tenants pay utilities.
If you have anyone interested please call or text Ralph Kamps at 608-345-2880 for more info…
Ken Notes: This is perfect as a destination retail outlet for arts, brewery, winery, crafts, a bike shop or more.
---
Commercial Brokers Group, Inc.

Next Event:
CBG Meeting and CE (course TBD)
Date: Tuesday, April 9th, 2019
Time: 07:15 AM
Congrats 2018 Deal of the Year Winners

OVERALL DEAL OF THE YEAR
Jenny Lisak & Aimee Bauman
Key Commercial Real Estate
The Gebhardt Building
801 E. Washington Avenue

---
Knight Barry Title Group

With over 350 experienced real estate professionals, Knight Barry provides exceptional support and service. Visit our website for more information about our 50+ commercial and residential offices throughout Wisconsin, Michigan, and Minnesota.
MADISON: 2450 Rimrock Road, Suite 204, 608-255-2700
CAP SQUARE: 44 E. Mifflin Street, Suite 101, 608-255-2700
---
When a hip hotel developer does apartments
Crain's got the first look at Essex on the Park, a new 56-story residential tower paired with a rehabbed landmark hotel on Michigan Avenue. It's the latest from the firm behind LondonHouse, Hotel Julian and the Godfrey.
RSK: Very cool place…but check out those rents especially for the penthouses! Approaching San Fran heights.
---
FoodFight Restaurant Group – WELCOME

Our roster of restaurants reads like a who's who of Madison's favorite eateries: From Monty's Blue Plate Diner, to The Avenue Bar, to Steenbock's on Orchard, each is unique in its atmosphere and menu and each is the best at what it does!
…more
---
More than 300 store closures are announced in a single day as the retail apocalypse rips through JCPenney, Gap, and Victoria's Secret
Gap, JCPenney, and Victoria's Secret announced more than 300 store closures over the course of 24 hours this week, sending a clear signal that the fallout from the retail apocalypse is far from over. Tesla also announced it would close "many" of its 378 physical dealerships in favor of online-only sales…
RSK: Not looking good for large clothing retailers.
---
Crown Commercial Real Estate/Development, LLC
Sponsor


Offering real estate services and design-build construction solutions for growth oriented clients… …more
---
The Skimm
RSK: I read this first thing every morning to quickly catch up on the world. You may want to subscribe yourself…it is a freebie!!!
---
Recent sponsors below…
Thanks you for sponsoring CIREX and Cirexnews.com
…more
---
MIG Commercial Real Estate
"The attention to detail, preventative maintenance, and proactive communication exhibited by MIG makes them a true business partner."
---
Mid-America Real Estate Group
Mid-America Real Estate – Wisconsin, LLC offers the same high level of service in property leasing, asset management, tenant representation and investment sales for which Mid-America has become known.
---
Evans Properties, LLC.
Professional Real Estate Management and Sales
---
ARTIS REIT / Madison Lifestyle Office Portfolio
Madison Lifestyle Office Portfolio comprises 16 Class A properties totaling over 1.7 million square feet of leasable area and an additional 8.3 acres of development land. The portfolio is located on the west side of Madison, Wisconsin.
---
T. Wall Enterprises

Expect Professional Management with a Personal Touch
with every T. Wall Urban Village.

(608) 575-1018 or Contact@TWallEnterprises.com

---
Wisconsin Commercial Real Estate
Our focus is your focus, our goals are your goals.
---
Madison Commercial
For lease on Medical Circle – Up to 4,902 SF Available
Currently being remodeled with new elevator
Open floor plans
Under new ownership
Beltline visibility & monument signage
Plenty of parking
call Mike Herl
---
Masters-hall Appraisal
---
ST. Johns Properties
Five flex/R&D buildings – 138,000+ sq. ft. – Hwy 51 and Hoepker Road – High End Image – Affordable and Flexible Floor Plans – Warehouse – R&D, Light Manufacturing – Showroom
---
Ruedebusch Development & Construction

Ruedebusch Development & Construction, Inc. is a highly qualified, vertically integrated full service commercial construction, and real estate development company located in Madison, Wisconsin which offers:
Commercial Real Estate Development
Design Build Construction
Commercial Real Estate Brokerage
Economic Development, Commercial Real Estate, and Facility Consulting