WeWork Makes Retail Debut With First WeMrkt In NYC, Plans National Expansion
Office sharing giant WeWork has launched WeMrkt in New York City, which is a reinvention of the company`s Honesty Market. The first of the new stores is located at the 205 Hudson WeWork location in Lower Manhattan, with plans to expand to other locations in New York and then nationally soon after.
The shop offers a small but curated array of items, including snacks, office supplies and WeWork-branded apparel….
RSK: Self-serve self-pay, not so sure how that will work out but I do like the concept…
Ken Notes: It will be interesting to see if the private sector can replace the Public Market, I believe this may be the new mall and a great retrofit for the old mall. "Test your retail concept here!" Self-serve self-pay could easily be updated with an auto pay that is supervised like every big box now offers…
---

CBG Summer Social
Date: Wednesday, August 8th, 2018
Time: 4:00 PM
Event Details:
It`s that time of year again for our annual August afternoon meeting with hors d`oeuvres and alcoholic refreshments! Please join us at Pontoon Porch from 4:00 – 7:00 p.m. We`ll have a short meeting and then it will be time to enjoy the food & drink. We hope you can join us!

……….
Congrats Deal of the year winners… Presentation Here!
Note from RSK: At our CBG Madison meeting on Wed. April 11th, CARW and Catalyst gave a demonstration on their property data system. To find out more go here. It is no charge for a few months.
Actually, there is no charge to list properties on the system… just to use the data and view properties. This is the opposite of Property Drive which charges for a listing but allows anyone to view the data and properties. We are neither endorsing or directing you to join Catalyst but want you to have the information to make a choice on your own company`s needs.
See More Here:
---
Traditional Restaurant Chains Launch Fast-Casual Concepts to Lure Millennials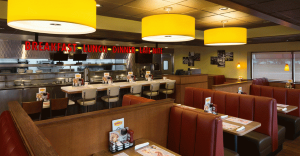 Many are in testing stages, trying to find the right size in the right market as they compete in a crowded sector.
Some well-established,casual-dining chains are rolling out more modern, fast-casual concepts to try to attract younger diners.They include Cracker Barrel, Tony Roma's, Hooters and Denny's.
These older chains want to capture market share in the hot fast-casual sector.After all, millennials dine out or get takeout five times a week, according to a study by Bankrate.com. That's compared with just 2.5 times for boomers.
Since these chains have decades of experience in the restaurant business, spinning off a fast-casual concept to help revitalize their brand may be a natural progression…
RSK: I agree that at times you need to start from fresh rather than trying to change something old into a new concept. Why so many restaurant owners cannot understand why someone doesn`t want to pay the price. It is usually because the concept is old or dying out.
---
The Gialamas Company`s premier development. The park has over 57 buildings containing 200+ companies, occupying over 3.0 million square feet.
---
7.5 Acres on the Sugar River in Paoli, this 10 unit mixed-use commercial/residential bldg has 10 unique, large units many with high vaulted ceilings overlooking the Sugar River. No one unit is alike. 7.5 acres, makes room for additional units or building, C1 zoning allows many uses. Real Estate only for sale. Building is fully leased. 48-hour notice for showings 10-12 on Tues & Thurs. Proof of funds availability needed…
Ken Notes: Now this is a destination property!
---
Strong demand for industrial space is pushing developers to undertake speculative projects like Hays Commerce Center in metro Austin. Hillwood and HPI are co-developing the facility.
Demand for industrial space is soaring and the growth of e-commerce has opened the doors for more competitors to enter the freight and logistics spaces. In addition, the latest data from the Bureau of Labor Statistics (BLS) notes that year-to-date, the United States has added 200,000 new positions in the manufacturing sector, greatly increasing the demand for new industrial space…
RSK: Very interesting. Cross-docking is coming and going at the same time. Self-driving trucks will also change the scene.
Ken Notes: When I was Mayor in Neenah we had a developer in our industrial park that built 4plex industrial spaces that cash flowed when half (2 of 4) were rented, the businesses then knew they had the ability to expand in place. Brilliant and he did very well because as they expanded is was pure profit.
---
The U.S. Needs 4,000 More Data Centers In The Next Two Years
The big picture when it comes to data centers, according to the speakers at Bisnow`s Data Center Investment Conference & Expo South, is very big indeed.
Increasing connectivity and other factors mean that roughly 600 zettabytes of new data is created each year (that is 600 trillion gigabytes), which is about 200% more traffic than current data centers can handle. To keep pace with the growth of data, the industry is going to have to build about 4,000 new facilities — on average 200K SF, 25 megawatt facilities — by 2020, the speakers said….
RSK: The only problem is they do not tell you where they are needed….just that they are needed.
Ken Notes: Where is where the fiber is, and FYI Verona and Fitchburg have an abundance of it. Also they are just rural enough, close to a metro, and priced right. I can help you market this if you are interested…
---
Mid-America Real Estate – Wisconsin, LLC offers the same high level of service in property leasing, asset management, tenant representation and investment sales for which Mid-America has become known.
---
Epic Systems buys Ella`s carousel and collection of whimsical art and toys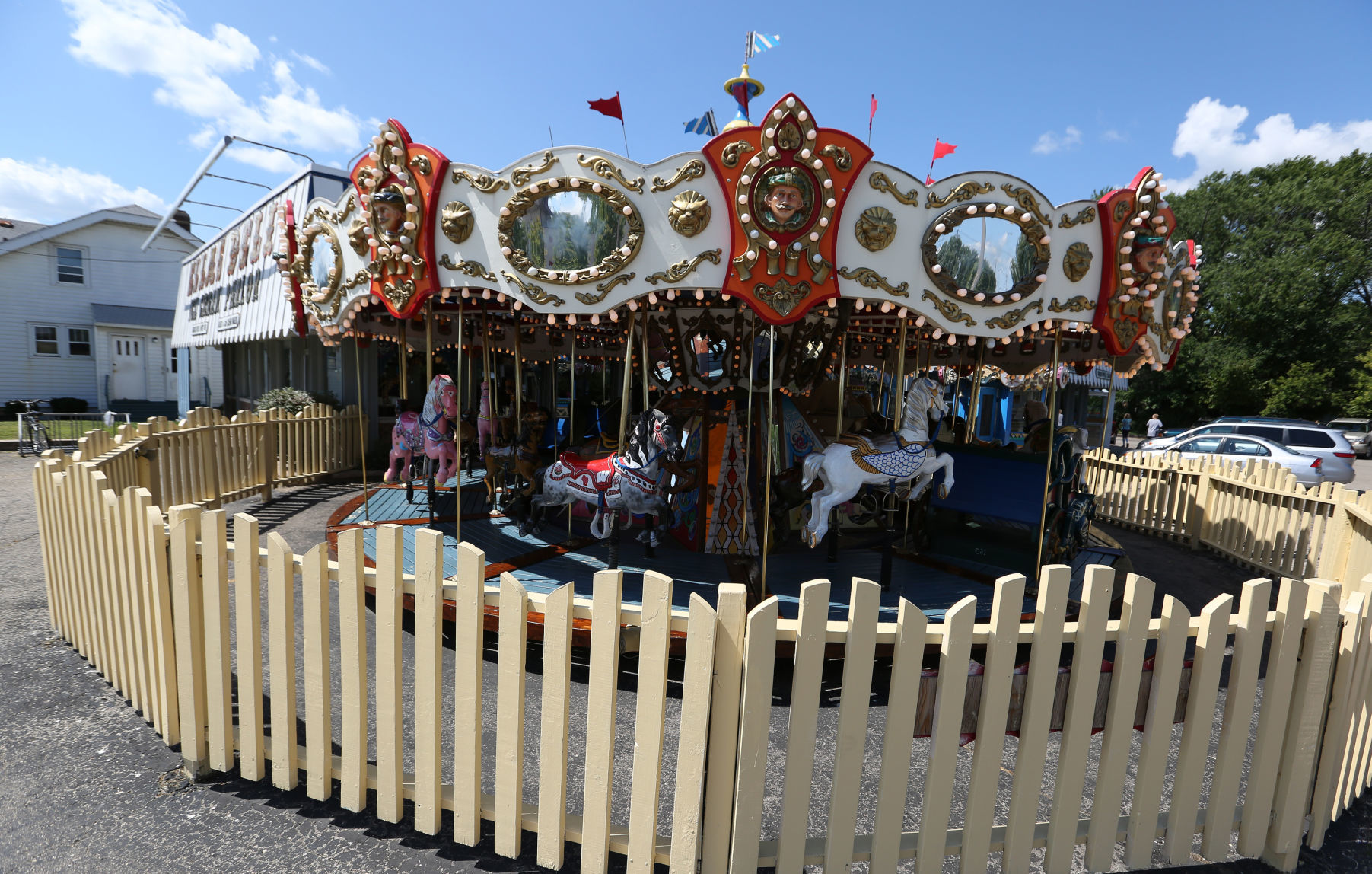 The Ella's Deli carousel may whirl again.
Epic Systems Corp. has bought the former Madison restaurant's historic outdoor carousel and the collection of whimsical art and toys inside that made Ella's Deli a favorite of children and adults alike before it closed in January after 41 years.
"It's really good news. It all happened very, very fast," said Ken Balkin, who owns the Ella's Deli building and business with his wife, Judy. "Epic Systems has purchased the carousel and the art collection and they're going to carry it forward into their campus in a real positive way."
Ken Notes: This is perfect for the EPIC campus but will be missed on East Wash…
---
View Our May Digital Version Online Here

Subscribe to Real Estate CIREX Digest

Subscribe to CIREX to receive our monthly Real Estate Digest in PRINT.
Hundreds of property listings, organized for easy browsing.
New properties are featured every month.
Property/Drive CIREX Members alphabetically listed in our extensive directory.
idstr=3′
---
P.F. Chang`s owner said Friday it has retained Bank of America/Merrill Lynch and Barclays to explore a possible sale of the Chinese food chain.
Centerbridge acquired P.F. Chang`s in 2012 and recently separated it from Pei Wei Asian Diner, creating two distinct businesses.
Centerbridge said it received "multiple unsolicited indications of interest" for P.F. Chang`s…
RSK: I believe the one out in Middleton is still open.
---

Ruedebusch Development & Construction, Inc. is a highly qualified, vertically integrated full service commercial construction, and real estate development company located in Madison, Wisconsin which offers:
Commercial Real Estate Development
Design Build Construction
Commercial Real Estate Brokerage
Economic Development, Commercial Real Estate, and Facility Consulting
---
People respond well to those that are sure of what they want,' Vogue editor Anna Wintour once remarked. 'What people hate most is indecision.'
In essence, that's the role of a great editor: to take a point of view on the world and clearly express it through the pages of a magazine. It's about bringing a singular vision to life and selling that vision to as many people as possible. It is not just about chasing what's popular, reflecting public opinion or playing to generic trends. It's about having a clear message that helps their publication stand out from the crowd.
At first glance, this may not seem to shine much light on today's retail landscape, but at Appear Here we believe shopping destinations could massively benefit from an editorial eye…
A good editor provides the glue that holds a magazine together…
RSK: When you reach the bottom read about this editor. He has an amazing thing going on.
idstr=2195′
---
The annual "The State of Retailing Online" study conducted by NRF and Forrester examines the impact of ecommerce and provides key metrics for benchmarking. The survey examines retailer attitudes and investment levels for critical digital commerce issues. This year's results demonstrate that the line between the digital and physical worlds is blurring as the retail landscape continues to evolve, with many retailers focusing on digital store initiatives in 2018.
Key findings from this year's report include:

Net-net, stores are growing:…

Omnichannel remains a key store investment area: …

Digital retail continues to be the bright spot it's been for years:..
RSK: This seems a bit contrary to what is actually happening. Good news if it is true.
idstr=2206′
---

With over 200 experienced real estate professionals, Knight Barry provides exceptional support and service. Visit us online for more information about our 40+ commercial and residential offices throughout Wisconsin and Michigan.
---
Google And Microsoft Make A Big Push Into Grocery And Department Store Retail
Tech giants
Google
and
Microsoft
have partnered up with two retailers, which will see them push further into the grocery and department store retail space, respectively.
Google announced a tie-up with French supermarket giant Carrefour, which will see the company sell its groceries on Google's new dedicated French shopping site starting next year. Carrefour groceries will also be available via Google-operated connected speakers and voice-assisted devices. …more
RSK: A few of us were just talking about Amazon and is it becoming a behemoth and monopoly. Many are trying to combat it. Eventually, I think Amazon will implode somehow.
Ken Notes: I think Amazon is here to stay, watch for them to enter new and larger item markets in the future as they solve last mile delivery issues.
---
4001 Felland Road, 100% warehouse with drive-in door. Available November 1, 2018.
---
With the largest Real Estate Practice of any law firm in Wisconsin, Reinhart offers clients custom-tailored real estate insight.
---
Landlords could start charging per person instead of per foot if co-working advocates have their way.
As the industry's office space continues to evolve rapidly, executives of companies that creatively fill space office market and its valuation model needs to catch up.
"If you think about a building whether it's a retail or office as a marketplace with a captive audience, the ways you start to think about how to monetize that audience can be tremendous," said Ryan Simonetti, co-founder of fluid meeting space company Convene…
RSK: New concept, but no matter what or how you call or charge for it you still need X at the end to pay for expenses and give a bit of a return on investment and risk.
---
JULY 2018

July 11 | 4:00 – 5:30 PM
NextGen
CARW Training Room
July 11 | 11:45 AM-1:15 PM
Lunch and Learn
Ballpark Commons Development
Rock Complex
July 26 | 5:30 – 10:00 PM
25th Anniversary
Discovery World
RSK: A list of CARW Events and CE.
---
There is a lot of talk about how much the landscape has changed in the commercial office sector, with the rise of the creative office at the forefront of the conversation. Global brokerage firm Cushman & Wakefield recently released a report, Space Matters, detailing the reasons for some of these changes to traditional office spaces and how space decisions are being made by occupiers today.
According to Cushman, there are four main factors that are highly important to today`s commercial real estate executive when making space decisions. Read on for the breakdown…
#1. Office Density…
#2. Amenities…
#3. Parking…
#4. Rent Concessions…

RSK: Good study. When it comes to CBD office space the problem with the older buildings are not enough on-site parking. The newer buildings all have sufficient underground and/or bi-level ramps. With a few large buildings on the books on East Washington, some of these older buildings may suffer in occupancy or rent concessions.
---
Affordable. Versatile. Excellent visibility. A unique gem tucked alongside Madison's West Beltline Highway 12/14…
---
The 15 BIG Questions You Must Answer About Commercial Real Estate And Your Data!
Where we stand today.
Commercial real estate data has long been left abandoned in dark recesses and behind firewalls, either forgotten or hidden. Mostly for a perceived competitive advantage. Today that may no longer be a choice….
…
The Big Questions:
1. Will data availability and portability, done well, help create a defined commercial real estate brand?
2. What new audiences will the data attract?
3. Will we need commercial real estate data, advisors?
4. Will we manage our data daily, weekly or monthly?
5. What do "innovative" data mining and monetization methods now in use by Google and others, mean to commercial real estate?
6. Will this affect commercial real estate locally, at a regional level or on a global scale?
7. What happens to commercial real estate data when it's collected and syndicated into "the cloud"?
7. What happens if there is a monetization of the data without the knowledge and permission of the rightful owner?
8. Can commercial real estate be stupid enough to go back to square one?
9. How do we, as an industry, determine the real value of data beyond the context of that data is just property data?
10. Do we need only need "comps" to build upon or to derive a valuation model?
11. What exactly is the Commercial MLS's/ CIE's role?
12. Does this create a new kind of data marketplace?
13. Do we understand how business intelligence and analytics are being applied to the data generated by commercial real estate transactions?
14. How should the commercial real estate industry confront this data challenge?
15. How should we do it?…
RSK: Timely and gives you something to ponder on…how can you make your data perform in your business? Click on the story to see Dukes answers…
---

Cindy Strange Memorial Golf Outing
July 18 @ 10:00 am – 6:00 pm
Register your team today – space fills up fast! Deadline is July 9, but don`t wait. This event traditionally sells out earlier than the deadline. Not a golfer? Join the fun by attending the after golf reception only. Be sure to register by July 9. Click on the link below for the registration form…
July 21 @ 7:00 am – 1:00 pm
Please join Team REALTOR® Riders! Sign up to ride or make a donation to the team today!
July 26 @ 5:00 pm – 10:00 pm
New Developments for Commercial Brokers 2018 Review

RSK: In case you missed the RASCW Commercial Update Seminar a link to the powerpoint presentations is above. Worth the time to go over it
---

Our roster of restaurants reads like a who`s who of Madison`s favorite eateries: From Monty`s Blue Plate Diner, to The Avenue Bar, to Steenbock`s on Orchard, each is unique in its atmosphere and menu and each is the best at what it does!
…more
---
Landmark historic Madison restaurant on the market for the first time in 41+ years as the owners are ready to retire. 5,561 SF building on a 1.04 acre lot with plenty of parking. Sale also includes a rental property located on the adjacent parcel at 2912 E Johnson St. consisting of 3 apartments – one 2 bedroom – 1 bath unit on the first floor and two efficiency units on the 2nd floor…
---
Malls across the country, having lost millions of customers to online rivals, hope to win shoppers back with a rather odd marketing plan: pay for parking.
In partnership with an app called MyPark, malls and outlet centers are starting to reserve the best parking spots — those nearest the stores — and will allow shoppers to reserve those spots, for a fee.
Woodbury Common Premium Outlets is the latest shopping center to sign a deal with MyPark. Shoppers who want to reserve a spot near the entrance or by popular restaurants can pay $3 for two hours — plus $3 an hour thereafter — to reserve a spot as much as six months in advance.
Serious shoppers are already scooping up spaces for Black Friday, according to MyPark CEO Luis Mayendia, who is eyeing airports and hospitals as expansion targets…
RSK: Great idea…but wonder what problems will arise from this. Why not just Uber or Lyft there?
---

Offering real estate services and design-build construction solutions for growth oriented clients…
…more
---
Thanks you for sponsoring CIREX and Cirexnews.com
…more
---
Professional Real Estate Management and Sales
---
Madison Lifestyle Office Portfolio comprises 16 Class A properties totaling over 1.7 million square feet of leasable area and an additional 8.3 acres of development land. The portfolio is located on the west side of Madison, Wisconsin.
---
Newmark Grubb Gialamas specializes in investment sales, office, retail, industrial, land, multi-family properties and 1031 exchanges. Our knowledgeable, local brokers are subject experts in their field.
---

Expect Professional Management with a Personal Touch
with every T. Wall Urban Village.

(608) 575-1018 or Contact@TWallEnterprises.com

idstr=1382′
---
---
Our focus is your focus, our goals are your goals.
---
For lease on Medical Circle – Up to 4,902 SF Available
Currently being remodeled with new elevator
Open floor plans
Under new ownership
Beltline visibility & monument signage
Plenty of parking
call Mike Herl