Cirex News is emailed weekly to over 1,300 CRE Brokers/Agents and people interested in commercial real estate. In our weekly News & Views you can promote your clients properties and your services for just $15 for new listings (If it is put into the Cirex Guide no extra charge) and $25 for a banner ad (also free to Guide advertisers). call 608-345-2880…
---

Meeting & CE-4 Ethics & Best Practices in Wisconsin
Date: Wednesday, April 11th, 2018
Time: 07:15 AM

Event Details:
The breakfast meeting schedule is:
• 7:15 a.m. – 8:00 a.m. breakfast & networking
•8:00 a.m. – 8:50 a.m. Meeting
•9:00 – noon CE-4 Ethics and Best Practices in Wisconsin

This continuing education class will be taught by Reinhart Boerner & Van Deuren, s.c. This approved course will count towards the credits needed for Wisconsin licensee renewal. If you have any questions, please contact Wendy Sullivan at 608/772-0060 or wendy@advantageosborne.com.

Location: The Lyric, 1010 E. Washington Avenue

Congrats Deal of the year winners… Presentation Here! …more
---
---

…more
The Gialamas Company`s premier development. The park has over 57 buildings containing 200+ companies, occupying over 3.0 million square feet.
---
One of my favorite arguments with colleagues concerns the state of the overall retail industry. 2017 was actually a banner year for overall retail sales, with a strong holiday season propelling overall retail sales up 4.2%. True, sales of online retail grew at a significantly faster rate of nearly 13% but on a smaller base. So, everything must be great for retail, right? Not really.

At the same time, there were a record number of retail bankruptcies in 2017, followed by a number of prominent bankruptcies in 2018 (Toys "R" Us, Claire`s, Bon-Ton). Overall, there was roughly two times the amount of store closures versus openings in 2017, driven by bankruptcies and mass closures. Critically even, those openings tend to be concentrated in the value retail segment, with chains like Dollar General, Dollar Tree, Aldi, Lidl and TJ Maxx making up the lion's share. These are not mall-based retailers… …more
RSK: More creative retail needed like restaurants and entertainment? How many restaurants can a city have? Almost every retail center and mall has a food court or restaurants in them now…
---
The Bon-Ton Stores Inc., a department store chain that filed for Chapter 11 bankruptcy protection nearly two months ago, says it may have found a buyer, though much is still unclear and the company's long-term outlook remains hazy.
In a news release late Friday, Bon-Ton announced it is in "active discussions with interested parties in respect of a going-concern bid to acquire the company in a Bankruptcy Court-supervised sale process." But Bon-Ton, which did not identify the potential buyer, noted there are no assurances the discussions will lead to a definitive agreement…
…more
RSK: I hope so and preferably not Amazon.
---
Wisconsin Commercial Real Estate
Our focus is your focus, our goals are your goals.
…more
---
---
Despite the growth of open floor plans and creative workspaces, the U.S. office environment has been curiously resistant to change in recent decades. Many workers across the country still toil away in cubicle-oriented space, which was designed without regard to actual human beings.
Christopher Kelly, a co-founder of workplace hospitality platform Convene, writes in Forbes that commercial real estate professionals need to forget "office" and think "workplace." …
…more
RSK: I like the line "Forget office…think workplace"!
idstr=1980′
---

Southwest Chapter Lunch and Learn
April 11 @ 11:00 am1:00 pm
Sportspage Bar & Supper Club – 117 West Commerce Street
Home Inspection Q&A Session Starts at 11:00 a.m. with Warren Porter, Porter's Wisconsin Inspections, and Chuck Staab, All Buildings Inspection LLC.
Free Soup, Salad and Sandwich Bar served following the inspectors.
Debi Conrad, Senior Attorney and Director of Legal Services, will join us after lunch for a Legal Hotline Q&A Session.
This is a free program but reservations are required. Please RSVP to registrations@wisre.com.
---
MILWAUKEE — CBL Properties has unveiled plans for the redevelopment of the former Sears building at Brookfield Square in Milwaukee. The first phase of the redevelopment calls for new dining and entertainment options that will include WhirlyBall and BistroPlex from Marcus Theatres. Construction is expected to begin this month with planning underway for additional phases of redevelopment. WhirlyBall will include indoor entertainment paired with a chef-inspired menu and rotating craft beers and seasonal cocktails. The two-story venue will feature two WhirlyBall courts, eight bowling lanes, a four-lane VIP bowling suite and a multi-level LaserTag arena. BistroPlex will feature in-theater dining with recliner seating and a full-service bar and lounge area… …more
RSK: Great idea. As is the Dave & Busters 30,000 sf going into part of the Sears at West Towne Mall. That is one large restaurant people. Give them 5 years max.
---
---
View Our March Digital Version Online Here

Subscribe to Real Estate CIREX Digest

Subscribe to CIREX to receive our monthly Real Estate Digest in PRINT.
Hundreds of property listings, organized for easy browsing.
New properties are featured every month.
Property/Drive CIREX Members alphabetically listed in our extensive directory.
---

…moreAffordable. Versatile. Excellent visibility. A unique gem tucked alongside Madison's West Beltline Highway 12/14…
---
Reports of Amazon's desire to purchase some Toys R Us stores to expand its retail footprint may be good news for retail landlords looking to fill vacant space, but some experts say empty boxes in tertiary or rural locations could have a harder time finding life after liquidation.
"We looked at Toys R Us, and 35% of the stores that are closing have very strong demographics, and landlords should be OK re-tenanting that space or converting [it for] different uses," CoStar Director of Research Suzanne Mulvee said. "Thirty percent of stores I wonder if they'll be able to find a tenant or backfill. What's in the middle is a gray area."…
…more
RSK: I wouldn`t hold my breath on some of these conversions. As they said rural areas will be the toughest. Not all retail big boxes will make good Industrial or office buildings. Maybe mini strip centers or malls?
---
Retail/ Office available Schenk`s Corner/Atwood/Willy St. Area Front space (suite 101) has been a chiropractic office for 50+ years, equipment available. Back (suite 102) was an addition about 1995 and is now a separate unit with bathroom and kitchenette.
---
---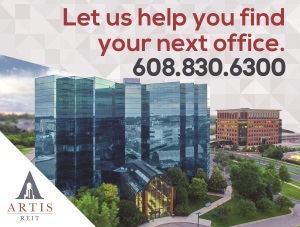 …more
Madison Lifestyle Office Portfolio comprises 16 Class A properties totaling over 1.7 million square feet of leasable area and an additional 8.3 acres of development land. The portfolio is located on the west side of Madison, Wisconsin.
---
---
The world's biggest e-commerce firms are not really thinking about big-box logistics any more. They are firmly focused on how to best get their goods as quickly as possible into big, dense, urban environments. And that leads their thoughts to taking over space that is now not needed by retailers.
That is according to Zalando Vice President of Corporate Real Estate Raimund Paetzmann. Berlin-based Zalando is one of the world's largest fashion-focused e-commerce firms, with a market capitalisation of €11B and 2017 revenue of €4.4B. It sells products directly to consumers and also acts as an online platform for other retailers…
…more
RSK: Ken and I have been saying this for a long time. It will happen here soon not just China and the UK.
---
---
It was 2007 and I just started a commercial construction company in what became the beginning of the worst economic downturn since the Great Depression. Seeking additional revenue streams, I sat at my desk reading the application for the Small Business Administrations 8(a) Business Development Program. As I searched for the program qualifications I found Section 124.103 which identifies "Who is Socially Disadvantaged." After reading the paragraph I concluded that the paragraph includes essentially every other group save one, white males. The SBA makes quite a general assumption to conclude that people in this county defined, as "white males" could not also be socially disadvantaged… …more
RSK: A must read!
---
---

…more
---
---
The U.S. apartment market's performance stumbled during Q1, with occupancy sliding to 94.5% in March, down from 95% a year earlier, according to data by real estate tech and analytics firm RealPage.
Rent growth cooled as well, coming in at a 2.3% increase year over year, the company said. That is the slowest pace of increase since the market started its long run of prosperity in 2010…
…more
RSK: I don`t think will come as much of a surprise to people in the business….we all knew it was coming.
---
---
APRIL 2018

April 11 | 4:00 – 5:30 PM
NextGen
CARW Training Room
April 16 | 11:45 AM-1:15 PM
Lunch and Learn
CARW Training Room
April 18 | 8:30 AM – 6:30 PM
ICSC/ CARW Retail Conference
Potawatomi
April 23 – 26 | 8:30 AM – 5:00 PM
CE Credits / CI 103
CARW Training Room
…more
RSK: A list of CARW Events and CE.
---
---
You should always be skeptical when a company releases data about its own industry, but ThredUp's annual report on the state of the secondhand clothing world is too interesting to pass up. Last year, ThredUp predicted that the resale market would grow to $33 billion by 2021. In numbers released Tuesday, it says that by 2022, the market will hit $41 billion..
…more
RSK: I found this interesting for two reasons. First because these stores were brick n mortar and then added on line.. Secondly the online resales decided they needed some brick and mortar as well. Morphing indeed.
---
---


…more
With the largest Real Estate Practice of any law firm in Wisconsin, Reinhart offers clients custom-tailored real estate insight.
---
---
The average age of a U.S. warehouse is 34 years, a CBRE survey finds.
Many of them lack modern upgrades: ceilings are low, flooring is uneven and space is tight.
As Amazon and other retailers move sales online, demand for warehouse space is skyrocketing and supply is still limited.

…In surveying facilities across 56 markets throughout the country, CBRE found most warehouses built before about 2005 lack modern upgrades: Ceilings are low, flooring is uneven and space is tight…
…more
RSK: This may not bode well for the old Oscar`s plant.
---
---
Amazing opportunity to lease office/retail space along desirable Monona Drive in building anchored by the Medicine Shoppe Pharmacy. Built in 2010, this property boasts large windows, two private offices, waiting area, and open work space. Ample rear storage space allows this property to be easily converted into retail space…
---
---


Our roster of restaurants reads like a who`s who of Madison`s favorite eateries: From Monty`s Blue Plate Diner, to The Avenue Bar, to Steenbock`s on Orchard, each is unique in its atmosphere and menu and each is the best at what it does!
…more
---
---
A hot, new restaurant concept is taking off in densely populated cities like New York, Los Angeles, Chicago and Washington, D.C., but don't try to make a reservation or stop in to grab a bite to eat. These restaurants have no dining areas, no storefronts and no wait staff. They're "ghost restaurants" or "virtual restaurants" – and are delivery only. They allow restaurateurs to diversify or expand with little overhead or test out new concepts.
Food delivery apps like DoorDash, Grubhub and Ubereats are fueling the increase in the number of ghost restaurants and ghost kitchens, because most utilize existing, third-party delivery services. These online delivery services can provide marketing for virtual eateries, so they don't need a storefront to generate takeout orders…
…more
RSK: This all started with Food Carts where there was or is no overhead for seating patrons. Now these Ghost Restaurants are becoming big business and if you read the article you will see how little overhead is involved making it viable. Existing restaurants are getting in the act as well. I happen to know a few personally.
---
---
Landmark historic Madison restaurant on the market for the first time in 41+ years as the owners are ready to retire. 5,561 SF building on a 1.04 acre lot with plenty of parking. Sale also includes a rental property located on the adjacent parcel at 2912 E Johnson St. consisting of 3 apartments – one 2 bedroom – 1 bath unit on the first floor and two efficiency units on the 2nd floor…
---
---
Contact Information
Luther Torgerson
Peterson Management Company Inc.
Phone: 608-256-1183
Mobile Phone: 608-444-1113
Email: petersonmgt@sbcglobal.net …more
---
---


Offering real estate services and design-build construction solutions for growth oriented clients… …more
---
---
I'm sure it's a given in this day and age that we as in WE are all living in the digital world of business. Throw out the names, Apple, Google, Samsung, Nokia and maybe add in Nike, Sony, Dell and you are nodding in agreement. Yes, it is indeed the digital world we all live in.
Within commercial real estate, it is the exact same thing correct?
Let's throw out those well known digital companies and brand names of commercial real estate………….
…more
RSK: The Dukester with some language. My comment is…some people just like the process as much as the end results. Sometimes the journey along the way is more rewarding then the destination itself.
---
---
Well located industrial site available for sale or build-to-suit. Excellent proximity and access to interstate system makes this location ideal for users serving multiple communities. The parcel is currently identified as 4906 Femrite and the newly created tax parcel will maintain a shared driveway. The site can accommodate a building footprint of approximately 10,000 sf. Sale price $190,000…
---
---
Thanks you for sponsoring CIREX and Cirexnews.com
…more
---
---

608-255-2700
www.KnightBarry.com
…more
With over 200 experienced real estate professionals, Knight Barry provides exceptional support and service. Visit us online for more information about our 40+ commercial and residential offices throughout Wisconsin and Michigan.
---
---

Ruedebusch Development & Construction, Inc. is a highly qualified, vertically integrated full service commercial construction, and real estate development company located in Madison, Wisconsin which offers:
Commercial Real Estate Development
Design Build Construction
Commercial Real Estate Brokerage
Economic Development, Commercial Real Estate, and Facility Consulting
…more
idstr=56′
---
---

…moreMid-America Real Estate – Wisconsin, LLC offers the same high level of service in property leasing, asset management, tenant representation and investment sales for which Mid-America has become known.
---
---

…more
Professional Real Estate Management and Sales
---
---


…moreNewmark Grubb Gialamas specializes in investment sales, office, retail, industrial, land, multi-family properties and 1031 exchanges. Our knowledgeable, local brokers are subject experts in their field.
---
---

Expect Professional Management with a Personal Touch
with every T. Wall Urban Village.

(608) 575-1018 or Contact@TWallEnterprises.com